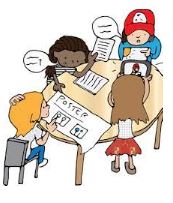 Learning Conversations actively involves parents, students and teachers reflecting on student growth as a learner, while acknowledging the most important participants in the learning process – student, teacher and parent/carer.
Learning Conversations strengthen the home-school partnership and allows children to see their parents and teacher working together with them. The student shares the learning in the classroom. The student facilitates the conference and is supported by the teacher when needed. As the student develops in confidence, they require less teacher support.
Throughout the conference, parents are encouraged to ask questions, provide feedback and encourage the student and to share their thoughts and ideas on what is being presented.
Learning conversations provide a forum to develop a student agency for students, parents and teachers to acknowledge student progress and achievement. They are a valuable avenue for involving parents and students in the learning process and helping parents understand the learning process. It's an opportunity to celebrate the student's achievements. Learning conversations benefits the students, parents and teachers.
Learning conversations are within ½ hour alongside 3 other families. Whānau is welcome to stay the full 1/2 hour or go within that time.
You will be sent a link so that you can choose a time from the availability listed for your child's teacher.
Stations with activities will be set up in each classroom for students to share with their whanāu. Below is an example of what it may look like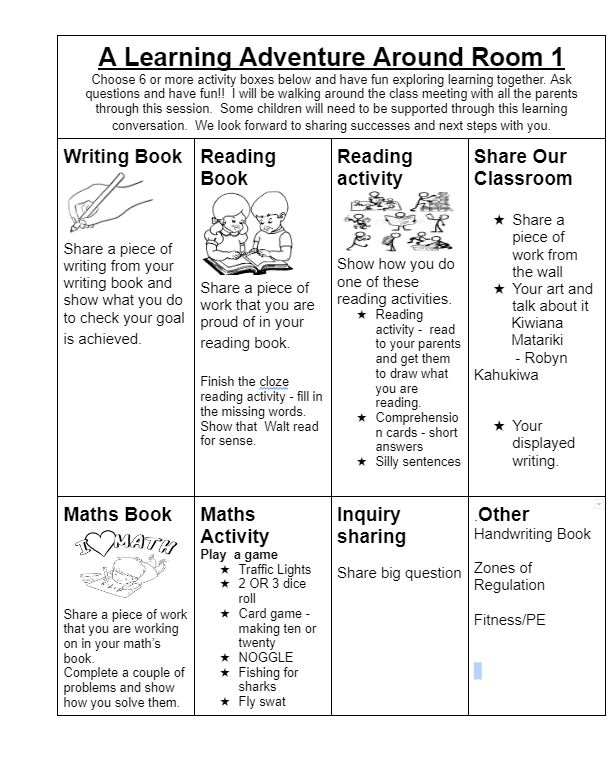 Questions to ask
What did you learn when you did this?
What important things did you learn from this?
How did you learn this?
What do you need help with?
What really made you think?
Why do you think that is a good example of…
Explain how you could improve this?
What did you find difficult/tricky?
Why did you choose these as your next learning goals/ steps?
What other things would you like to learn about?